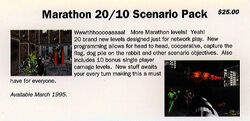 The Marathon 20/10 Scenario Pack was to be a collection of ten new solo levels and twenty network levels, as well as new network options.
The Pack was originally advertised on a flyer in the Marathon box (seen at right) as being available in March of 1995. Additionally, a message from Bungie's Jason Jones was found in Marathon's resource fork, promising a "network upgrade" with an extra weapon (intended to be the shotgun).
In the end, Bungie decided to forego the scenario pack in favor of continuing the player's story, announcing the impending release of Marathon 2: Durandal on July 19th 1995.[1][2][3]
Ad blocker interference detected!
Wikia is a free-to-use site that makes money from advertising. We have a modified experience for viewers using ad blockers

Wikia is not accessible if you've made further modifications. Remove the custom ad blocker rule(s) and the page will load as expected.