Lh'owon is the first chapter in Marathon 2: Durandal. It consists of three levels and serves primarily as an introduction to the game.
Synopsis
Edit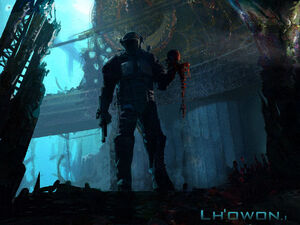 Lh'owon is the first chapter in Marathon 2: Durandal and reintroduces the player to the core concepts integral to the Marathon series.
The player is transported to the planet Lh'owon by Durandal and sent on information gathering and exploration missions, with the ultimate goal of locating the 11th S'pht clan.
The player is teleported down to the surface of Lh'owon to Pfhor water treatment facility by Durandal. Durandal wants to gain access to the Pfhor network and has the player insert two uplink chips.
The Slings & Arrows of Outrageous Fortune
Durandal sends the player to another facility on Lh'owon that's partially submerged. The only objective the player is given is to explore and then leave from the last terminal.
---
Preceded by
None
Marathon 2: Durandal Chapter Info:
Lh'owon
Succeeded by
Volunteers
Ad blocker interference detected!
Wikia is a free-to-use site that makes money from advertising. We have a modified experience for viewers using ad blockers

Wikia is not accessible if you've made further modifications. Remove the custom ad blocker rule(s) and the page will load as expected.